Deus: Chitose Tanaka
The "Northern Aurora", an angel from Hokkaidō, fights Hikaru in the first round of the Angelic Layer National Games. She uses a technique called the "Hexagon Reversion" to immobilize her opponents in mid-air. Along with the lightning storm during Hikaru and Elain's fight, this technique almost makes the layer disappear. Elain has an advantage: she is a larger angel with long arms.
Physical Appearance
Edit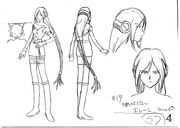 Ad blocker interference detected!
Wikia is a free-to-use site that makes money from advertising. We have a modified experience for viewers using ad blockers

Wikia is not accessible if you've made further modifications. Remove the custom ad blocker rule(s) and the page will load as expected.