Ohjiro Mihara (三原 王二郎 Mihara Ōjirō?) is 15 years old and is Icchan's younger step-brother. He has been involved with Angelic Layer for many years, in large part because it was what brought him and Icchan together after their parents married. Ohjiro competes in Kobe, and was the champion of the Kansai Regional games, as well as being the runner-up in the national tournament for two consecutive years. In the manga he is reassuringly asking what color are Misaki panties then running away. He has a desperate desire to defeat Shuko Suzuhara's angel, Athena, to get over a childhood crush he had on her. His angel is Wizard. In the anime, he falls in love with Misaki, but he develops a love for both Shuko and Misaki. In the manga, he has no feelings for Misaki or Shuko, but likes Tamayo.
Physical Appearance
Edit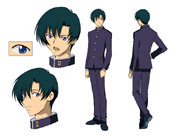 He has green hair and blue eyes.
Personality
Edit
Relationships
Edit
Ad blocker interference detected!
Wikia is a free-to-use site that makes money from advertising. We have a modified experience for viewers using ad blockers

Wikia is not accessible if you've made further modifications. Remove the custom ad blocker rule(s) and the page will load as expected.