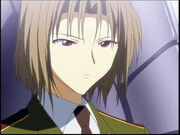 16-year-old Sai Jounouchi (城乃内 最 Jōnouchi Sai), known as the "Ice Machine," started playing Angelic Layer at the request of her terminally ill sister, Rin. Rin designed what the angel would look like, but died before Sai could create her. Sai states that her reason for playing Angelic Layer is "to become strong." Sai is from Kanagawa Prefecture and was the runner-up in the Kantō Regional games the past year. She is friends with Kaede, who went to the same middle school as Sai. Her angel is Shirahime.
Physical Appearance

Edit
She has short brown hair. She wears a navy green outfit and she wears a necktie. Her eye colour is brown.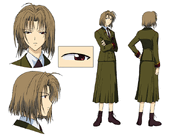 Personality
Edit
Ad blocker interference detected!
Wikia is a free-to-use site that makes money from advertising. We have a modified experience for viewers using ad blockers

Wikia is not accessible if you've made further modifications. Remove the custom ad blocker rule(s) and the page will load as expected.