Deus: Hatoko Kobayashi
Nicknamed "The Speed of Light," Suzuka often defeats her opponents with her speed. Created by 5-year-old Hatoko, Suzuka resembles a beautiful and strong ninja, and her 'Rolling Thunder' attack can defeat other angels within seconds. Her strength has led her to compete in the heated National Tournament along with Hikaru. Suzuka's name derives from the fact that she has two suzus on her bow and one hanging from her hair.
Physical Appearance
Edit
Suzuka resembles a supremely beautiful and very strong ninja. S
he has two 
suzus
 on her bow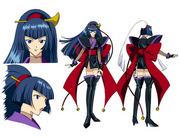 and one hanging from her hair. Her outfit consists of a black kimono with fish net acessories and a giant bow on her back. Her hair is dark blue and very long.
Fighting Style
Edit
Ad blocker interference detected!
Wikia is a free-to-use site that makes money from advertising. We have a modified experience for viewers using ad blockers

Wikia is not accessible if you've made further modifications. Remove the custom ad blocker rule(s) and the page will load as expected.