Tomoko Yamada
(山田 知子
Yamada Tomoko
) is
Misaki's
second opponent in the Tokyo prefecture games who's first appearance is in
episode 5
. Her angel is
Vasquez
. She appears again in the
25th episode
of Angelic Layer to see the fight between
Athena
and
Hikaru
.
Physical Appearance
Edit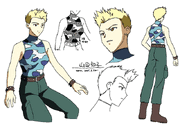 She has blonde/yellow hair.
Angel Entry Phase: "Resistance is futile. Trample the enemy, Vasquez."
Voiced by: Mayumi Asano (Japanese), Kaytha Coker (English).
Ad blocker interference detected!
Wikia is a free-to-use site that makes money from advertising. We have a modified experience for viewers using ad blockers

Wikia is not accessible if you've made further modifications. Remove the custom ad blocker rule(s) and the page will load as expected.